Woodlesford Primary School Skiing 2017
Italy - Santa Caterina Valfura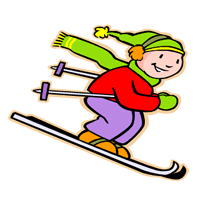 1st April - 7th April 2017
Each day (technology gremlins permitting) photographs of the days activities will appear here.
We generally upload pictures at the end of the day when the children have gone to bed; it could be later in the evening so please be patient, the children come first.
So you don't have to keep checking back we will send a text to let you know when new photos have been uploaded.
Day 6....6th April

Our last day in St. Caterina and there is a flurry of snow drifting in the air at the hotel as we have another relaxed start to the morning.

Today is all about times and winning....this morning in the slalom race and tonight at the world famous URDY GURDY GAMES.

10am and everyone is up the mountain for the last time and the slalom course beckons. Everyone, at every level of competence completes the course without a single spillage.....times will be revealed in the afternoon awards ceremony. As the local church's noon bell tolls at 12.03pm (it has been 3 minutes late all week - maybe the Vatican is in a different time zone?) all the kids shed their lead weight ski boots for the last time whilst the teachers breathe their annual sigh of relief that all the kids have survived the skiing with no more than the usual minor knocks and bruises.

Lunch is quite normal, followed by a quick tour of the local gift shops to buy loved ones some exotic gifts (I hope you like them, if not please feign some sense of gratitude as much effort and heartache went into choosing them!!), then a quick dash back to the hotel for the ski awards ceremony.

The instructors, looking resplendent with their blue uniforms and leathery tans, award each student with their ski level badges and slalom times. Each group is awarded a bronze, silver and gold medal for their race times, but well done to all the kids for being just superb in both their efforts and attitudes...in the words of Mr Stoneham. they were all.... "EPIC".

Room inspections consist of ensuring bags are packed and drawers are empty......if anything is missing when we return it is not for lack of trying on the teacher's part!!! The room winners are.......Matt & Dan.

Tea, and our final overload of carbs before the Urdy Gurdy games are opened. After a chick hunt, a picture quiz, identify the Italian food, and the 7's Quiz we had the head to head bean bag game. A final music quiz left the '8 Muppeteers' beating the 'Drag Lift Failings' by a single point.

Earlyish to bed for a 5.30am start tomorrow.....

Well that's all folks!! The final blog of the trip as we head back to sunny Woodlesford tomorrow. See you around 4.45pm on Day 7, conveniently just in time for opening time at Kirvanis.......!
A final few photos below!
Day 5....5th April

Our 3rd consecutive day of skiing, the day when usually spirits are low and every ache and pain from the last 2 days is exaggerated, so why not an extra hour in bed.....

.....the sky is not quite as grey as yesterday and spirits around the breakfast table are surprisingly bubbly. We are on the slopes by 10am for a 2 hour morning session and back up at 2pm for another couple of hours, the mountain is quiet except for Woody kids who seem to be around just about every corner of not so Sunny Valley. The tumbles are becoming less frequent and those parallel turns are starting to look almost natural.

"Why are we having rice pudding as a starter?" was an interesting observation at tea.....apparently it was a risotto dish!!!

Then it was off out for talent night, and boy are these kids talented. Out of the many stars who performed, the ones that I thought shone brightest were Miri's portrayal of a Yorkshire father and Sam R's Mr Bean black belt karate "expert" but a really massive well done to all the acts. The night finished with a disco before back to the hotel for the muppet and kindness awards, followed by a very warm welcome from our pillows.


"Blog disclaimer: I hope you have all enjoyed my version of this week's ski holiday. Unfortunately it is not always possible to upload the words and photos in a timely manner so patience has to be the key word. If your child's name or photo has not appeared anywhere I apologise, what we do have is hundreds of photos and and some lengthy video footage that captures everyone in the party and this will eventually be turned into a DVD to be sent out to all the students"
Day four - 4th April
Not so blue this morning, actually we are struggling to see where the white mountains tops stop and the white clouds start, but no matter, the snow is still slippy and the kids are still eager.

Ok, so some rooms need waking up at 7am, and there are some slightly stiff and sore limbs but all the kids make the 7.30am breakfast, get equipped like a smooth running oiled machine and are on the ski lift by 9am. This time all the groups go up the mountain......talking of snow, as the instructors were reading out the list of names yesterday when they got to Neve, they stopped, passed the sheet round and started chuckling amongst themselves, eventually he calls out "Ne Ve" and moves on to the next name on the list. A little worried that the name meant something unpleasant or rude we google translate it.....it turns out Neve is Italian for SNOW!!

The kids progress in all the groups is excellent, and after the lunch break the top group tackles their first black run whilst the others hone both their speed and skills as new snow falls gently on the slopes.

After their descent at the end of the afternoon and the group starts to relax in what is now the daily apre-ski ritual of an ice cream, the last 3 students hobble into the bar in an odd assortment of footwear....and so starts SHOEGATE. The guess is that the other school using the ski shop has "managed" to walk off (no pun intended) with the wrong shoes and the shop owner, once he had stopped giggling, drives Mrs Stoneham and the poor downtrodden (again no pun intended) kids to the other hotel in hot pursuit. During the short journey tensions rise in anticipation of the potential Mexican stand off (no pun intended) if Woody might have to confront the other school's students, demand a inspection line up or search all the hotel's rooms one by one ....with an air of disappointment they enter the hotel lobby to find a group of teachers sat waiting with the 3 pairs of errant shoes at their feet. it appears they had asked one of the students to carry the teacher's shoes back to the hotel, unfortunately this kid had assumed teacher's pay was a tad larger than reality and had chosen the best 3 looking pairs of shoes on the racks!! Anyway all's well that end's well .

The evening is spent in the hotel, with another filling meal and the the traditional awarding of the muppet and kindness awards. After sharing our stories of spectacular wipeouts, lift antics and moments of generosity and caring, a vote is held and the "spectacular" garments to be worn the following day are awarded. Special mention must go to Andrew who managed to get one of each today. Room inspections and round 2 of the room themes are completed and everyone has a well deserved early night.
Day three... 3rdApril
So now it is down to the business end of the holiday - SKIING!!

But first a big Happy Birthday shout for Mia.

Yet another glorious blue sky, sees us up at 7am, having breakfast a t7.30am and on our way to the ski shop by 8.30am to get all geared up for the slopes. Now remember I mentioned yesterday all everyone had to do was retain 3 numbers in their memory, well maybe the air is a little thinner up here in the mountains and that effects the brain's functions, but this seemed to be almost impossible for some kids AND also bigger kids, leading to a bout of minor 'carnage' before we were all ready....traumas over, and we are on that beautiful white stuff called snow by 9am.

After an initial assessment by the instructors the final 4 groups of skiers were established and the top 3 groups clambered onto the chair lift and up the mountain, whilst the beginners practiced the basics on the lower slopes.....3 hours later, back to the bottom, kit off and lunch back at the hotel. I think by now you will have gathered it was yet another 3 courses. Energy and hydration levels restored and back to the ski shop for this afternoon's session....this time kitting up runs much more smoothly and everyone is back on their skis by 2pm. Skiing is hard, but everyone tried their best and kept going the whole day....a massive well done to all the kids. A special mention to the top group who are already as good as last year's were by the end of their stay.

Just after 4pm and apre-ski involves an ice cream and the slowest ever game of pool recorded in the history of time before dragging those aching limbs back for tea. We also discover we are now sharing our meals with some TV celebrities who are also staying at our hotel.

Glad rags on and we all headed out for an ear shattering night of karaoke. Wow, those Woody kids can sure sing....from Adele to Queen they rocked the place. Tired and happy we call it a day.
Day two... 2nd April
We wake to a beautiful blue sky and a nice leisurely start to the day, We descend for a 9am breakfast followed by a meander down to the ski shop a few hundred yards (I wonder if we will return to teaching imperial measures after Brexit?) down the road in the centre of Santa Caterina. These places always smell worse than they are and the friendly Italian staff sorted out the whole group with their boots, skis, poles and helmets.....all everyone had to do was to remember 3 numbers for tomorrow, easy. Afterwards we had a short snowball fight and then it was back to the hotel for a spot of lunch, well when I say a spot of lunch I mean a 3 course meal, more pasta, meat with salad and a panna cotta for desert.

A coach picked us up and took us down into the local town of Bormio, which being Italian on a Sunday was shut until 3pm.... except the ice cream parlour of course!! A few cones and waffles later we made our way to the Ice Skating rink and donned some blades. For most the first few laps involved alot of slipping and sliding whilst clinging to the perimeter rail, however as confidence grew so did the kids speed and daring and most were relative competent skaters by the time they had to leave the ice. Let's hope this bodes well for tomorrow's skiing.

The evening meal is another ample affair which is followed by room inspections and some very entertaining room themes. Finally we have a showing of the film Cool Runnings before it is lights out. ("Sanka, are y'dead man?"...." Yeah man")
Some technical gremlins have infiltrated the system! Just a few photos for now - more will follow once pest control have the debugged our tech!
Day one... 1st April
6am and we leave Woodlesford,a vibrant happy coach of excited kids and bigger kids motor down the M1.
Of course nobody fell for the old April Fool's traffic warning that meant we would miss the flight (well except for Mrs Akroyd) and we had a smooth trip to Gatwick. The Easyjet staff made the usually arduous effort of checking in and security simple as it appears they have a rule that anyone with a green hoody has their own preferential lane......maybe lessons in how to answer the security questions would be useful for future trips....
"Have you anything dangerous in your bag?", to which one student responded "Yes". Whilst we weren't quite surrounded by armed anti-terrorist police there was a raised eyebrow from the security lady, thankfully the offending article turned out to be a plug, and yes technically it is dangerous!!

A short delay on the tarmac before takeoff was made up in the air and we landed safely at Milan airport where we gathered our bags and climbed aboard a coach that insisted on driving on the wrong side of the road. 500 tunnels, a posh pit stop and a loud sing song with classics that ranged from "The Wheels on the Bus" to the Woody School song we pulled up outside the Hotel Milan just after 9pm local time.

Just in case we were hungry on arrival we immediately sat down to a 4 course meal, with a starter of Pizza, a second starter of Pasta, a main of Chicken and Chips and fruit for pudding. It was pretty much into rooms and lights off after tea.....followed by silence as the kids and bigger kids heads hit their pillows.

This is a view of the ski runs in Santa Caterina Valfura.
Excited yet?